Sept 7, 2018
What is Research?
Bamshad Mobasher – DePaul University
This talk describes the history of research, explaining what constitutes research and what is not. It also provides an overview of the importance and distinction of research publications as one method of knowledge dissemination. This talk introduces students to research as a method of doing work and helps them understand the importance of literature reviews, effective and relevant methods, and falsifiability.

Speaker Bio: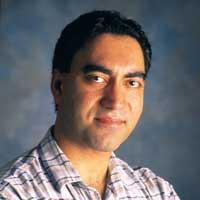 Dr. Bamshad Mobasher is a professor of Computer Science and the director of the Center for Web Intelligence at DePaul University College of Computing and Digital Media in Chicago. He is also the co-founder and the director of the Center for Data Mining and Predictive Analytics at DePaul University. He received his Ph.D. in Computer Science at Iowa State University in 1994. His general research areas include artificial intelligence and data mining. In particular, he is considered one of the leading authorities in Web mining, Web personalization, and recommender systems.
_____________________________________
Sept 14, 2018
Collected vs. Collective Intelligence in the Wisdom of Crowds
Joshua Becker – Northwestern University
Research on the wisdom of crowds is motivated by the observation that the average estimate in a large group can be incredibly accurate even when no single person knows the right answer.  A common assumption is that accurate group beliefs require individuals who are independent, such that social influence generates herding dynamics which undermine the wisdom of crowds.  In contrast, we use a formal model of belief formation to argue that the effects of social influence depend on the network structure of communication.  We tested these predictions experimentally, finding that centralized networks produce groupthink, but that decentralized networks can increase accuracy both for individuals and the group as a whole.  We replicated these results for medical diagnoses, financial forecasts, and even political beliefs in echo chambers.  Our results show that structured communication networks can allow groups to produce estimates that are more accurate than collections of independent individuals.  I will close with a distinction between "collected intelligence" and "collective intelligence" and an invitation to consider how digital media platforms can be designed to facilitate group decision-making.
Speaker Bio:  Joshua Becker is a postdoctoral fellow at the Kellogg School of Management and the Northwestern Institute on Complex Systems at Northwestern University.  Their dissertation work at the Annenberg School for Communication, University of Pennsylvania, was published in the Proceedings of the National Academy of Sciences.  Joshua is a certified mediator, and prior to graduate school served as the volunteer and training coordinator for Baltimore Community Mediation Center.  This first-hand experience with the benefits of structured communication motivates Joshua's interest in building tools to promote collective intelligence in communities and organizations.
_____________________________________
Sept 21, 2018
Soft and Continuum Robots: Potential, Trends, and Challenges
Isuru Godage – DePaul University
The recent surge of biomimetic prototypes and popular coverage thereof are increasingly making soft and continuum robots a household term. Constructed from deforming material with little to no rigid elements, these robots trade precision for compliance and strength for human-safety, and therefore can be considered as the dual of traditional rigid-bodied robots. Continuum robots can deform to assume complex geometric and organic shapes to navigate better in unstructured spaces. Soft robots, imitating the muscular appendages or linings of biological creatures, can serve as excellent environmental interfaces with inherent sensing capability. These unique features and capabilities of soft and continuum robots are poised to open a range of previously unthinkable robotic applications, particularly in minimally invasive surgeries, medical diagnosis, co-robots in human spaces, and search and rescue operations. In this talk, we will focus on the state of the art soft and continuum robotics in terms of design and modeling including challenges, the latest trends as well as novel sensing technological advances that could transform and extend the reach of these amazing robots.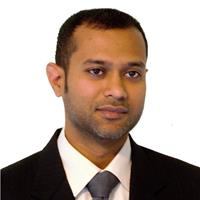 Speaker Bio:  Isuru Godage is an Assistant Professor with the School of Computing and the director of the Robotics and Medical Engineering (RoME) Laboratory at DePaul University. Previously, he held an Adjoint Assistant Professorship at Vanderbilt University, and Postdoctoral Research Scholarships at Vanderbilt University and Clemson University respectively. Dr. Godage holds a Ph.D. in Robotics, Cognition, and Interaction Technologies from the Italian Institute of Technology-University of Genoa (2013) and B.Sc. Eng. (Hons) in Electronic and Telecommunication Engineering from the University of Moratuwa, Sri Lanka (2007). Dr. Godage's research interests include designing, modeling, and controlling of continuum and soft robots for manipulation and locomotion in applications related to search and rescue and healthcare applications.
_____________________________________
Sept 28, 2018 – **In Collaboration with the Distinguished Speaker Series Talk – Held in Daley 214**
Learning Systems for Science
Ian Foster – University of Chicago & Argonne National Laboratory
New learning technologies seem likely to transform much of science, as they are already doing for many areas of industry and society. We can expect these technologies to be used, for example, to obtain new insights from massive scientific data and to automate research processes. However, success in such endeavors will require new learning systems: scientific computing platforms, methods, and software that enable the large-scale application of learning technologies. These systems will need to enable learning from extremely large quantities of data; the management of large and complex data, models, and workflows; and the delivery of learning capabilities to many thousands of scientists. In this talk, I review these challenges and opportunities and describe systems that my colleagues and I are developing to enable the application of learning throughout the research process, from data acquisition to analysis.
Speaker Bio:  Dr. Ian Foster is the Director of Argonne's Data Science and Learning Division, Argonne Senior Scientist and Distinguished Fellow and the Arthur Holly Compton Distinguished Service Professor of Computer Science at the University of Chicago.  He was the Director of Argonne's Computation Institute from 2006 to 2016.  Foster's research contributions span high-performance computing, distributed systems, and data-driven discovery.  He has published hundreds of scientific papers and eight books on these and other topics.  Methods and software developed under his leadership underpin many large national and international cyberinfrastructures. Foster received a BSc (Hons I) degree from the University of Canterbury, New Zealand, and a Ph.D. from Imperial College, United Kingdom, both in computer science.  His awards include the Global Information Infrastructure (GII) Next Generation award, the British Computer Society's Lovelace Medal, R&D Magazine's Innovator of the Year, the IEEE Tsutomu Kanai award, and honorary doctorates from the University of Canterbury, New Zealand and CINVESTAV, Mexico. He is an elected Fellow of the American Association for the Advancement of Science, the Association for Computing Machinery, and British Computer Society.
_____________________________________
Oct 5, 2018 ***In collaboration with Women in Technology Keynote – Held in Daley LL105**
Betty Shanahan, Associate Vice President, Administration & Operations – DePaul University
Speaker Bio:  Betty Shanahan was a key driver behind the recent launch of DePaul's new ESPORTS teams and gaming center. Betty began her career as the first female engineer in Data General's development facility. There she gained notoriety as "the one-woman engineer" when Tracy Kidder chronicled her team's development of a minicomputer in the book Wired called "the original nerd epic," Soul of a New Machine. Betty spent 24 years in the computer, electronics, and software industries in development, marketing and executive management roles. During that time, she has been a member of teams for emerging technologies such as the first commercial parallel processor, graphics processing, and embedded smartphone technology.
In 2010, she was the first woman to receive the Claud R. Erickson Distinguished Alumnus Award from the MSU College of Engineering. In 2012, Betty was named is one of STEMConnector's "100 Women Leaders in STEM." In 2013, she received an honorary Doctor of Science from the University of Connecticut. Most recently, she was named one of the two 2018 recipients of Michigan State University's Alumni Grand Award for Service.
_____________________________________
Oct 12, 2018
As We May Live: An augment to Vannevar Bush's July 1945 "How We May Think"
Steven Fischer – Image, Style, and Design Studio
Images have evolved over the past 160 years, and most profoundly over the past two decades.  Until digital cameras, images (photos) were physical objects, to be shared and stored as treasured pieces.  Digital images, married with developing information & communication technologies (ICTs), have allowed instantaneous and limitless sharing. In course, images have become social currency, the communication of an ideal, perfect life, one that is collectively created, curated, developed and influenced.  The impacts of this are wide-spread and manifest across many industries.  Pursuit of theideal & perfect life, has left individuals clamoring to create and live up to, at the same time leaves the potential for less life satisfaction.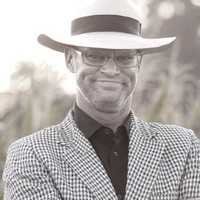 Speaker Bio:  Steven Fischer's Image, Style & Design Studio focuses on the intersection of one's self-image, style and ultimately design.  Its main area of focus is on the luxury industry, and in 2013 launched the 100% American leather goods line, Fischer Voyage, at Harrods London.  His work has been featured by the New York Times, BBC World News, The Financial Times, How to Spend It, Crain's Chicago Business and the Chicago Tribune.  He has taught at the University of Chicago Booth School of Business, Northwestern University's Kellogg School of Management, Institute of Design (Illinois Institute of Technology) and the School of the Art Institute of Chicago.  He holds an MA in Communication Systems Management, Science & Policy from Northwestern University and a BA in Economics from Coe College, which he attended under fine arts scholarship for photography.
_____________________________________
Oct 19, 2018
Responses to IT Addiction: Person-Centered Analyses of Outcome and Personality Determinants
Hamed Qahri-Saremi, PhD
Recent research on the "dark side of information technology (IT)" has pointed out several IT use-related behaviors that are not desired nor expected, and sometimes tied with negative consequences, such as reduced productivity and lower job performance. This is particularly relevant when users develop an addiction toward using an IT artifact (IT addiction), defined as users' maladaptive dependency on the use of an IT that is associated with significant negative consequences across life domains. Given its negative consequences, users are expected to devise responses to their IT addiction. Recent variable-centered studies in the information systems and psychology literatures have highlighted the important factors underlying users' responses to IT addiction. While these studies provide valuable insights, their variable-centered approaches do not clearly depict the joint effects of these factors on users' responses to IT addiction. As an alternative approach, a person-centered analysis is more naturally suited to the consideration of the joint effects of factor combinations by focusing on the identification of subpopulations of users (i.e. distinct profiles) in the shape of the interrelations among these factors. As such, this presentation discusses person-centered studies to investigate three research questions aimed at behavior shown during the post-addiction stage of an IT use: (1) what are the prototypical profiles of users' responses to IT addiction? (2) what is the outcome of responses to IT addiction across these profiles? (3) what are the personality determinants of users' profiles of responses to IT addiction? Drawing on the findings of prior variable-centered studies and cognitive dissonance theory (CDT) as our guiding framework, we conduct two person-centered empirical studies of social networking sites (SNS) users using three-step latent profile analysis (LPA). The first study identifies the prototypical profiles of users' responses to IT addiction and differences in their outcomes in terms of users' SNS discontinuance intention. The second study replicates the findings of the first study and further investigates the personality determinants of the different profiles of responses to IT addiction using the five-factor personality model. Our findings contribute to research and practice in IT addiction and dark-side of IT use.
Speaker Bio:  Hamed Qahri-Saremi is an Assistant Professor of Information Systems at the College of Computing and Digital Media, DePaul University in Chicago, IL. He holds a PhD in business administration with a concentration on information systems from the DeGroote School of Business, McMaster University. His research is at the intersection of social and technological systems and particularly addresses the behavioral implications of using information systems and computer-mediated communications. His research papers have appeared in various journals and conferences in Information Systems, such as Journal of Management Information Systems, Journal of Strategic Information Systems, Information & Management, New Media & Society, Computers & Education, Expert Systems with Applications, Journal of Organizational Computing and Electronic Commerce, and European Financial Review. He has served in various capacities as an editor, a reviewer, a mini-track chair, and a session chair for journals and conferences in information systems field.
_____________________________________
Oct 26, 2018
Body Type: An Analysis of Fat Identity and Fat Bias in Graphic Design
Samantha Flora
Samantha Flora's research,  Body Type: An Analysis of Fat Identity and Fat Bias in Graphic Design, is supported by the creation of the typeface Body Type, which is based on her own bodily proportions and seeks to interject the fat female form into an industry where fat bodies have been marginalized by practice. She teaches courses in human factors and ergonomics as well as foundational art and design skills. She is the co-founder of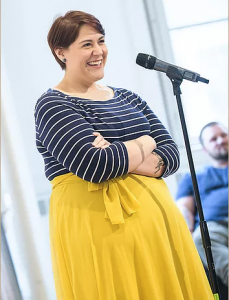 JAM, a growing interdisciplinary studio that seeks to support creatives by providing design and publishing consultation. She is also the founder of Fat Kid Type Foundry, where the expansion of the Body Type superfamily continues to evolve.
Speaker Bio: Sam Flora holds an MFA in graphic design from the Vermont College of Fine Arts and a BFA in metalsmithing from The Columbus College of Art and Design. Her work is centered around issues of identity, the body, womanhood, and how they interconnect with design in the context of body image and the body positivity movement.
_____________________________________
Nov 2, 2018
Towards Gender Equity Online in the Global South
Nithya Sambasivan – Google
Today, half the world is online. But women remain highly under-represented on the Internet. For example, in India, only 29% of internet users are women, and a technology's female user base can often be much lower. Over the past 2 years, I have been studying the intersection of gender and the Internet across Bangladesh, Brazil, India, Indonesia, Mexico, Nigeria, and Pakistan, through qualitative and quantitative methods. In this talk, I will share insights and themes on how we may be inadvertently perpetuating bias and inequity in technology design, and what we can do as designers, researchers, and developers to challenge these disparities. In particular, I will focus on how four main themes of access, content, community, privacy, and safety impact women's equity online. Socio-cultural norms shape how women's phones are often shared devices in the family, leading to performative privacy practices on devices. Increased technology connectivity leads to frequent and severe online abuse, occurring in the form of stalking and impersonation; women often cope through informal rather than formal methods and reduce their online participation. Such behaviours and perceptions lead us to ask questions about definitions of access, algorithmic fairness, on-device privacy, identity models, and online safety.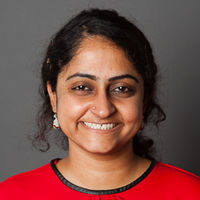 Speaker Bio:  Nithya Sambasivan is a senior researcher leading research on the perceptions, practices, and implications of AI in the Global South, at Google AI. Her research has covered topics such as gender equity, Internet access, grid electrification, crisis response, civic engagement, and more in the Global South, and has influenced large-scale real-world projects like Google Station, Datally, Build for Billions, design.google/nbu and more. Nithya has a Ph.D. and MS in information and computer sciences for University of California, Irvine and and MS in Human Computer Interaction (HCI) from Georgia Tech. Her dissertation focused on technology design for low-income communities of slums, urban sex workers and microentreprises in India. Her research has won top awards at HCI and ICTD conferences.

_____________________________________
Nov 9, 2018
Participatory Approaches to Understanding and Designing for Healthy Aging
Christina Harrington – Northwestern University
The field of pervasive computing has seen an emergence of health technologies targeting physical activity promotion or health maintenance, yet many see low and inconsistent usage rates or quick abandonment due to lack of motivational affordance and poor design consideration. Identifying useful and effective design elements of health and fitness technologies has the potential to lead to more meaningful experiences with these technologies, and thus should be a critical focus of design research. Through collaborative creative processes, participatory design provides useful insight and direction for the design of health technologies from underserved populations such as older adults who are often neglected in design. Participatory design centers underserved populations as co-creators of technology as opposed to just consumers, shifting how interaction is initially envisioned. This approach also has promise to provide a better understanding of health from a collaborative community perspective, which I and other researchers have found to lead to themes of holistic approaches to health, self-empowerment, and a shift in the ways we conceptualize technological health solutions. My research focuses on employing participatory research methods to evaluate and enhance underserved older adults' experiences with health technologies with the goal of understanding health needs and adopting inclusive and participatory design methods to develop future technologies. In this way my work extends design past the emotional appeal of artifact, and addresses ways design researchers can improve health and wellness by leveraging unique abilities and values of end users. I discuss recent research projects leveraging user-centered and participatory design methods to better interactions with health and wellness technologies among older adults.

Speaker Bio: As a designer and qualitative researcher, Dr. Christina Harrington's work focuses on creating technology experiences that promote health and wellness among marginalized populations and those with disabilities. She is currently a postdoctoral research fellow in the Inclusive Technology Lab housed in the Communication Studies department at Northwestern University, where her research interests intersect Human-Centered Design, Human-Computer Interaction, and Health Informatics. Here research primarily focuses on design for the aging population. In particular, she is interested in leveraging co-creation and community-based participatory research methods to understand the needs and experiences that can inform inclusive interactive health technologies for low-income and minority older adults. Christina received her Ph.D. in Industrial Design from Georgia Tech in the fall of 2017, and also holds a Master's in Industrial Design from North Carolina State University and a B.S. in Electrical Engineering from Virginia Tech.